January 2nd – February 13th, 2018
Freedom From Smoking Program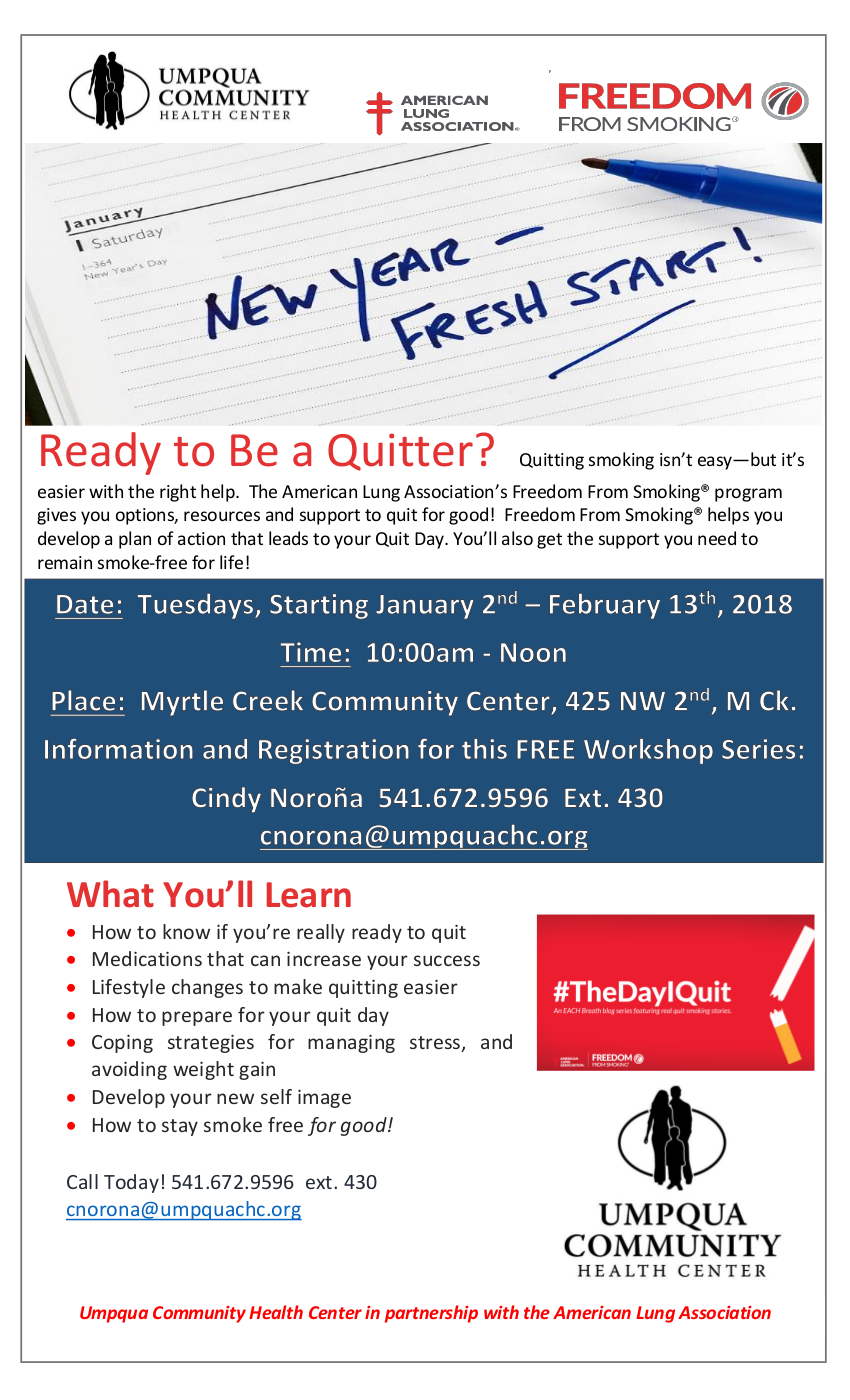 Friday, November 10, 2017
Honoring Vets & Their Pets!
Umpqua Community Health Center invites Veterans and their families to a complimentary BBQ to honor you for your valuable service to our country
Friday, Nov. 10th, 2017 11am – 1pm
150 Kenneth Ford Dr., Roseburg
Veterans! Bring your dog for a FREE Rabies Vaccine! 10am – 2pm
Compliments of: "For the Love of Paws"
(Dogs only, 2-dog limit)
Tuesday, October 10, 2017
Living Well Workshop Comes to Myrtle Creek!
Gain strategies to manage your pain, fight fatigue, set goals and solve problems, all in a fun and supportive workshop. You will learn strategies to relieve stress, deal with depression, eat wisely, remain active and communicate effectively about your health condition with your medical provider, family and friends. Make new friends and HAVE FUN!
NO COST Workshop meets twice a week for 3 weeks beginning October 10th, 2017:
Tuesdays & Thursday, 10:00am
Myrtle Creek Community Center
425 NW 2nd Avenue
Myrtle Creek
SIGN UP TODAY! CALL 541-672-9596, ext. 430
Friday, September 8, 2017
Extraordinary Living Conference
Visit Umpqua Community Health Center at UCC's Extraordinary Living Conference, Friday, September 8th!
Tuesday, April 11, 2017
Living Well with Chronic Conditions Workshop-Free
If you have a chronic condition or are caring for someone who does, this FREE workshop series is for you. This workshop will be held on Tuesdays and Thursday beginning Aprill 11 from 2:30 pm- 5:00 pm through April 27th. The workshop is being held at Umpqua Community Health Center in Roseburg, 150 Kenneth Ford Drive (across from Costco). Please contact Cindy Norona at 541-67209596 ext 430 to register.
Kick Start Douglas County- Healthy Living Challenge
A 12-week health and wellness program that will encourage you to adopt a well balanced healthy lifestyle.  This program is available to UHA assigned Oregon Health Plan Members (age 13+).
Sunday, August 13, 2017
National Community Health Center Awareness Week
National Community Health Center Awareness Week begins Sunday August 13 through Saturday August 19! Umpqua Community Health Center is joining in the celebration by partnering with our public housing department on Tuesday August 15, from 10 am-3pm by offering access to our Got Smile? program with free dental assessments, fluoride, varnish and oral hygiene kits.
Feel free to stop by our flagship location at 150 NE Kenneth Ford Drive, across from Costco and find out all the great services our Community Health Center provides to Douglas County residents. We also have local community clinics in Glide, Sutherlin and Myrtle Creek that would be happy to have you stop by. All of our offices take OHP, Medicare and 3rd party insurance and are taking new patients.
YMCA Family Resource Fair
Visit the Umpqua Community Health Center booth at the YMCA on Saturday, August 19 10am-1pm.
Saturday, January 28, 2017
Immunization Clinic and Health Fair
Umpqua Community Health Center and UCAN Child Services are teaming up to provide an immunization clinic to help working parents get their kids ready for exclusion day. Children's Institute, Yoncalla Early Works, Head Start, Nurse Home Visitors, and others will be there to provide educational material for children birth-middle school and answer questions. Join us! This event is located at Douglas County Health and Social Services, Drain. 316 W. A Ave, Drain, OR from 10 am- 2 pm.